How to save money while shopping at Hobby Lobby and some of the best items to buy for your home decor
I have been shopping at Hobby Lobby for as long as I can remember. I remember the first day I ever set foot inside the store. I felt like I entered Santa's workshop.
I think I stood frozen for a few seconds trying to grasp what all I was seeing.
You want farmhouse decor? Hobby Lobby has it. You want modern decor? Has that too. Want some eclectic decor? Aisle 5. Need some deer antlers? Walk to the back of the store.
I can go on and on.
If you are looking for anything home decor related or craft related, Hobby Lobby will be your best friend. I'll list some of my tried and true purchases, the things I always look for and things I have purchased and loved.
I will also show you how to save some big bucks at Hobby Lobby. So make sure to read this whole post. I mean it.
We'll start with my all time favorite…
Hobby Lobby Pillows
You know I wasn't going to start anywhere else with this post other than with pillows. My absolute favorite home decor staple are pillows and I can find some of the nicest ones at Hobby Lobby. There are two different kinds of pillows at Hobby Lobby. They have pillows with inserts already in them. Some inserts are down and some are polyfill. These pillows are kind of scattered around the store.
These are my favorite pillows to find at Hobby Lobby. I especially love their velvet pillows. These come with down inserts and are some of the nicest pillows I have seen for the price. I loved these pillows so much, I went out and purchased two more for my daughter's bedroom makeover
And then there is a whole section of just pillow covers that are very very affordable.
See that "sale" sign? Never ever buy these pillows unless they are on sale. Keep reading to learn more but these bad boys are always on sale every other week.
These pillows are great if you are like me and like to change out your pillow covers often. I used one of their white pillows with jute trim to put out on my couch in my sunroom.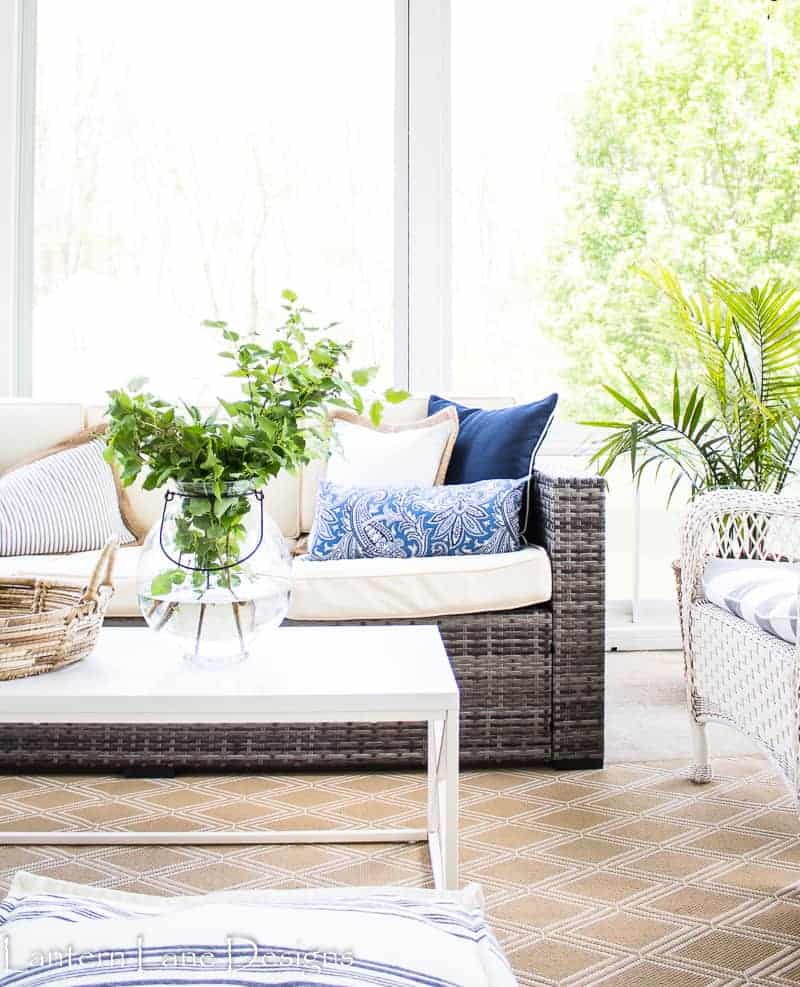 Baskets at Hobby Lobby

I love baskets as much as I love pillows and Hobby Lobby always has the best baskets. Not only do I love their baskets in their basket section that is always out year round, but every season they add in their seasonal baskets and those are always my favorites.
And their seasonal items are always 40% off…until they go on clearance
They have baskets in all shapes and sizes and I grabbed a few shallow ones to add as wall decor for my living room.
Furniture at Hobby Lobby

You might not think about purchasing any of your furniture at Hobby Lobby but you really should. I found my new chair for my family room at Hobby Lobby recently. I actually saw the same exact chair on Wayfair for more money than what I purchased it for at Hobby Lobby.
They really do have some of the cutest accent furniture there. It changes often too so if you see something you love, get it before it's gone for good.
(And keep reading to see how you can save more money on furniture. I know, the suspense is killing you)
Fabric at Hobby Lobby

Fabric is my favorite to purchase at Hobby Lobby. They have all kinds of fabric at Hobby Lobby but obviously my favorite fabric to look for is their home decor fabric.
Or any fabric that I can turn into a pillow or curtains. Last year I made no sew curtains for my dining room with fabric I found at Hobby Lobby
(Notice the baskets on the wall again? Yep, those are from Hobby Lobby)
I personally feel that Hobby Lobby has a better selection of fabric than most fabric stores.
Fake flowers and trees at Hobby Lobby

Another one of my all time favorites to buy at Hobby Lobby. I cannot say enough good things about their faux trees they have. I have their faux fiddle leaf fig tree in my daughter's room
I recently made my mom purchase one for her home. It's the most realistic faux fiddle I have seen and when you get it on sale, the price is insane. I do wish it was a little taller but I have been known to prop the fiddle on a few cookbooks inside a basket to give it some extra height.
I also just purchased their faux lemon trees for my front porch and holy moly guacamole, I get so many compliments on those trees. Not to mention everybody thinks they are real. I really do think the bees think they are real too.
Their faux florals are just as amazing. Everything I purchased to make my dining room centerpiece was from Hobby Lobby (including the cute vase I put the fake flowers in)
They also have some flowers that are more on the expensive side but man do they look and feel real
Mirrors and wall decor at Hobby Lobby

My favorite mirror I have ever purchased was from Hobby Lobby. This mirror was also the heaviest mirror I have ever carried out of a store…with a child in tow. But it was so worth it.
I have purchased a few other mirrors from Hobby Lobby but that round mirror is next on my list
And they have a ton of artwork. Here are few recent favorites
Accessories (and the other stuff)

I can spend hours and days inside of Hobby Lobby. There is so much stuff in that store. So.much.stuff. But in a really good way. I never recommend just running in to get one thing. You can never just run in and run out.
It doesn't happen
Vases and planters and little knicky knack things are everywhere.
I have purchased alot of their planters because they are so good and such a good price (even though they are excluded from any sales)
I found my coir rug I have on my front porch here too
Tips to save money at Hobby Lobby
Never pay full price
Never ever should you pay full price for anything when you go to Hobby Lobby (unless what you are purchasing is excluded from any sales or coupons).
Here's my top secret for you if you don't already know this….if you find an item you love and it's not on sale (50% off) you can either wait until the following week when it will be on sale or use a 40% off coupon. Hobby Lobby alternates their sales every week. What's not on sale this week will be on sale next week.
Let's talk about their 40% off coupon. You can find a coupon online on their website. If you have a smart phone, they can just scan it right from your phone. The coupon is only good per one item per transaction. There might have been a time or two I had my daughter stand in line with a separate pillow and use the coupon as well. (Some stores might frown upon this but it hasn't stopped me)
Use coupon for fabric and furniture instead
Fabric and furniture are always marked 30% off. BUT you can use your 40% off coupon instead of using the 30% off coupon. Make sure you tell the person cutting your fabric that you want to use your 40% off coupon so they can adjust the ticket correctly. You can purchase up to 10 yards of the same fabric (as one piece) using your 40% off coupon.
Buy fabric in bulk
Unless I 100% know what I am doing with my fabric, I usually always purchase 3 yards of fabric at a time. I do this with the mind set that if I decide to turn the fabric into curtains I will have enough for at least one panel. Since you can use your coupon for up to 10 yards it makes sense to get as much as you can for your project using a 40% off coupon.
Buy in store if you can
Every once in a while, Hobby Lobby offers free shipping over a certain dollar amount online. Usually shipping is not free so if you have a store near you, then I definitely recommend shopping in store only. Years back, I did purchase something from Hobby Lobby online and I wasn't able to return it in store. I was going to have to pay for shipping to return it via mail. I am not sure if that policy has changed but I have never purchased anything online from them. I'm fortunate to have a store near me.
Twice a year home accents clearance
Twice a year Hobby Lobby does their home accents clearance when they need to make room for some new merchandise. They usually have a clearance in January and then in July. Alot of their items can be marked down to practically nothing.
Check the clearance wall
There is always a clearance wall at Hobby Lobby and sometimes there is some good stuff on that wall. Try to find it at your store and make sure to check back every now and then to see what's there.
Now, get your purse and go head to a Hobby Lobby
If you want to save this for later, you can pin it here:
Come follow me on Facebook and Instagram. Come Pin with me on Pinterest
How to save money while shopping at Hobby Lobby and some of the best items to buy for your home decor
You Might Also Like!