Agreeable Gray by Sherwin Williams Paint Color Review

~A soft gray paint color that works great in any space in your home and pairs nicely with almost any paint color
Let's talk about another paint color today, shall we? You guys love talking about paint colors. At least that is what my stats tell me.
I'm normally an awful person to ask when it comes to finding that perfect paint color for your home. And, I am oh so indecisive
But….
Since I have been doing this blogging thing for a while now, I have learned so much about paint colors. Just from doing my own research and hanging out on Pinterest.
And if you have been on Pinterest and/or are looking for a paint color for your home, there is a 99.9% chance you have seen pictures of Agreeable Gray by Sherwin Williams.
Am I right?
I knew I was.
And it's rightfully so. Agreeable Gray is ONE of those paint colors. It's versatile, popular, and goes great with most home decor styles.
Agreeable Gray is considered a greige color as it has some beige undertones to it. It's a warm color right in between true gray and beige (You can see more of my favorite greige paint colors in this post)
Agreeable Gray is so popular that I couldn't even find a paint swatch in the store. They were all taken. See, you can't find it anywhere in this pile
Agreeable Gray actually has the perfect gray/beige combination and hence why it is so popular.
Like most paint colors, Agreeable Gray will look different in each room thanks to different lighting.
For example, if you paint a room that is facing north, the paint will appear to have a blue-gray hue with less of the beige tones.
A south facing room or a room that gets plenty of natural light, the paint color will appear to be a soft, warm gray with the absence of green undertones that are generally super common in a greige paint color
I cannot stress enough how important it is to test paint colors in your space at all hours of the day. I like to get my samples from Samplize. I will stick paint samples all over my walls and analyze them for a few days to see how they really look with different lighting.
I have paint colors on my walls that look different in the morning and in the evening.
Let's start off with some FAQs about Agreeable Gray by Sherwin Williams…
What are Agreeable Gray Undertones
Agreeable Gray is a warm greige. Because of that, the undertones are warmer (obviously). They lean more towards yellow-orange than towards green or blues.
Is Sherwin Williams Agreeable Gray warm or cool
Agreeable Gray is a warm gray paint color and as I said above it will have a creamier undertone to it.
Does Sherwin Williams Agreeable Gray have blue undertones?
This will all depend on your lighting. In rooms that are north facing, you might see a teeny tiny bit of blue undertone show up…but just a tiny.
What Does Sherwin Williams Agreeable Gray look like?
Let's take a look at some examples of Agreeable Gray
Agreeable Gray Paint In Kitchen
Agreeable Gray looks great in kitchens especially with white cabinets. The cabinets below are White Dove by Benjamin Moore if you are wondering.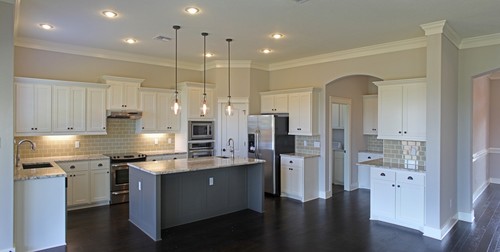 Also, do not fear adding color to your kitchen cabinets. Agreeable Gray looks great on cabinetry too.
Agreeable Gray Paint In Family Room
Agreeable Gray Paint In Bedroom
Sherwin Williams Agreeable Gray Coordinating Colors

All of these colors would look great paired together if you need a whole house paint scheme.
Agreeable Gray Vs Benjamin Moore Revere Pewter
Revere Pewter is one of Benjamin Moore's most popular paint colors and is a very popular greige paint color. You can see that is has more beige in it than Agreeable Gray and looks warmer in color. Agreeable Gray has more gray undertones than Revere Pewter.
Agreeable Gray Vs Sherwin Williams Accessible Beige
I'm not going to lie, but I get these two paint colors confused quite a bit and I have no idea why.
Accessible Beige is a beige with a hint of gray. It's much warmer than Agreeable Gray. Agreeable Gray has more gray in it. I would consider them both a greige though.
Agreeable Gray Vs Sherwin Williams Repose Gray
Another popular gray/greige from Sherwin Williams is Repose Gray.
Agreeable Gray is slightly less gray than Repose Gray as Repose Gray is just a tad darker but they are quite similar

DIY Painting Supplies
I listed out some of my favorite items I use when painting…
(This post contains affiliate links.You can see my disclosure policy here)
Benjamin Moore Classic Colors Fan Deck: Just in case you want to be even more overwhelmed you can order all of the Benjamin Moore classic paint colors
Same goes for Sherwin Williams Paint Deck
Paint brushes: I love all of Wooster's paint brushes but this one is hands down my favorite one to use. It makes cutting in so much easier.
Painter's tape: I hate taping and I really try to avoid it but when I can't I make sure I use a good tape
Drop Cloths: Yes, you need them and you need many. I have used trash bags and old shower liners before too.
Cleaning Cloths: These are amazing every day cloths for cleaning but work great for baseboards and walls before painting.
Paint Cup: This paint cup is brilliant and has a magnetic strip so your paint brush stays safe from falling in your paint.
Multi Position Paint Brush tool: The best tool you will ever use if you have tall ceilings or just in general. I used something similar to this to paint my 15 foot ceilings in my family room and it was a life saver.
Paint Edger: This might get a bad rap but if you do it right, it has been a nice helper for me. Especially when trimming around windows and along baseboards.
Touch up cup: Nothing is worse than having to pull out the whole can of paint for a little touch up.
How to choose the right paint color
Start with inspiration:
I talked a little bit about this in this post but I'll touch on it again. Picking your paint color for your walls should be one of the later things you do when designing a room. Find a large focal piece (rug, art, window treatments) and look for colors in those pieces that catch your attention. Get on Pinterest and look at magazines. Get some ideas of what you like. It is your house.
Decide on the mood of the room:
Do you want your room to be light and bright or dark and moody? If you home doesn't get a whole lot of natural light, stark white walls might look dingy. I would consider a paint with some color to it.
You can buy all your paint at Home Depot
Like I said before, I am a huuuge fan on Behr's paint. I usually use their Ultra line and I can't say enough good things about it. We had professional painters come in to paint our 2 story entry way and even the professional painter said you can't go wrong with Behr paint.
If you want to save a little money on your paint, Home Depot will color match any color for you from either Sherwin Williams or Benjamin Moore. I know some designers might cringe and tell you that Home Depot won't be able to match the formula 100%. I haven't had a problem yet.
Grab your swatches and bring home samples
Bring home some swatches and ideally some sample paints if you feel extra ambitious. Use large foam boards from the dollar store and paint sample boards. Test them in every room. Remember each room gets different natural light. See how they look in the morning and at night.
I just recently heard of SAMPLIZE and I think it is genius. Samplize offers peel and stick paint samples that are more affordable and easier than traditional paint pots. Samples arrive ON YOUR DOORSTEP in 1-3 business days, depending on location and costs under $6 for a sample.
You can also order large free swatches from Benjamin Moore here
Consider everything in your home…your trim, your floors etc. My floors are Brazilian cherry (aka very red) and I knew I wanted a color just a tad cooler to play off the warm red tones of the floor.
Is your trim bright white, or creamy white? Very cool gray colors might not play well with very warm white trim.
Get what I am saying?
If you want to see the undertone of color, look at the darkest color on the paint color strip. If you love a paint color but fear it can be too dark, ask them to cut it with 25% or 50% white.
Keep a list of your home paint colors
It's always a good idea to keep a list or spreadsheet of the paint colors you have used in your home. I can't tell you know much it has helped me.
If you want to save this for later, you can pin it here:
YOU MIGHT ALSO LIKE
Behr Silver Drop-The Prettiest Paint Color
9 Of The Best Greige and Warm Gray Paint Colors (And How To Pick The Perfect Greige Paint)