Paint and Color Trends for 2022
I know, I did a whole post similar to this one a few months ago. There's a slight chance I might talk about a few things again. This is your warning.
I've said this before in my home decor trends post and I will say it again…I am not a trendy person (and in more ways than one). I am a firm believer in decorating within your means and only with what you love.
If you love something, it will always be in style. There are pieces in my home that I have had for 15 years and counting and I still love them. Are they in style? Who knows, but I don't care.
But I also love seeing what is up and coming this year, in regards to home decor and with paint and color trends. I am seeing a shift away from the cooler colors and the warmer hues are coming on back.
Like BEIGE! Yep, it's back. We'll talk more about that later.
You can experiment more with trendy colors in your home. After all, it's just paint so it's easy to change when you get bored with it. If you want to add more color to your home…textiles, pillows and throw blankets are easy ways to sprinkle color around your home.
I recommend going neutral with big investment pieces of furniture. Replacing a hot pink pillow is easier than replacing a hot pink couch.
And while I am telling you that the warmer colors are coming back, I am certainly not telling you that the blues and grays are dated. In my opinion, those colors are timeless.
BUT we are now incorporating the warmer colors with our cool colors. That is what I love in design too. Old and new, modern and traditional and warm and cool all make for a well designed room.
Paint Color Trends For 2022
Traditional decor is making it's comeback and it's also making a comeback with more traditional paint colors.
Warmer, cozier paint colors are emerging. I'm seeing less cool gray tones and more greige paint colors, creamier whites, and beiges.
Currently, green is trending like a hot potato right now. Any shade of green is hot.
Benjamin Moore and Sherwin Williams both announced a green paint color as color of the year. Benjamin Moore's color of the year is October Mist and Sherwin Williams color is Evergreen Fog
Both of these colors are more of a sage green. But we will be seeing alot of greens…on our walls, trim, cabinetry and in our decor.
Farrow and Ball Pigeon is a very popular paint color right now. That's a paint color that is showing up everywhere lately.
Mark my words
Brown is making a comeback too. Yep, that is what I said
Chris Loves Julia just painted their pantry dark brown in their old house and I will have to say, I don't hate it.
I had too many walls painted brown in our old home and at one point I had dark brown walls with glitter (!!) when we moved into our new home. I'm having a hard time accepting that this color is coming back but I am willing to accept it in a pantry at this point.
Another paint color that is coming back is beige. I touched on this before in my other post but it's worth mentioning again. Beige is taking baby steps coming back. I think it's afraid to come out of the gate in full force. It's sneaking it's way into our homes and onto our walls with it's popular friend, Mr. Gray and changing his name to Greige.
Greige has been trending for a while now but I am seeing more and more of it these days. The most popular greige paint color is Revere Pewter (Benjamin Moore). It's a safe greige color. It can be used on walls and cabinetry. I love this laundry room from Studio McGee. The cabinets are Revere Pewter and it looks so good.
(I did a whole post about Greige paint colors if you want to see some more of my favorite greige paint colors.)
A good friend to greige is warm gray. They are more like cousins. Gray isn't going out anytime soon. It will always be considered a neutral color and neutral colors will always be in style.
These days though we are liking the warmer grays. The grays with a touch of beige undertones. Warm grays like my favorite paint color that I have painted my whole house in.
(You can read more about Behr Silver drop here)
White walls, while some people might disagree with me, will always be in style. However as you can guess the warmer whites are becoming more popular. I love warmer whites anyways so I'm loving this trend. I love this makeover from Room For Tuesday.
Notice the warmer white on the walls and fireplace? It's good, isn't it? The wall color is Aesthetic White by Sherwin Williams
(I did post about some of my favorite Behr white paint colors too. If you know me at all, then you know I am a huge fan of Behr paint.)
And if you want to get really warm, let's talk about yellow. I feel like we saw alot of yellow 15-20 years ago. I think I painted my first kitchen yellow. I kind of forgot about yellow for a while. But here we are warming things up again and guess what I seeing?
Orange
Ha! Kidding. I'm so funny.
Back to Chris Loves Julia. If you do not follow them, maybe you should. I feel like everything I am typing right now they are doing to their home. They just gave their daughters' playroom a makeover and yellow was their primary color.
Color Trends For 2022
There is more to color than paint. Not only are our walls getting warmer in color but so is our home decor. Warmer wood tones, beige textiles, rust colored pillows etc.
I'm the process of giving my front room a little makeover. I switched out the white curtains for beige curtains and am using some accent pillows to add in color. I'll show more of this room when it is done but it just takes a few small changes to give your room a fresh trendy start.
The curtains are from IKEA and were very affordable so I wasn't afraid to add them in this room knowing maybe one day I might hate them (ha!)
I'm currently on the hunt for some light blue chairs for this room. Remember what I said about mixing warm and cool colors? I'm on it!
Wood is back too. I am seeing less and less painted furniture. I love this makeover from Bria Hammel (one of my favorite designers that I stalk). Notice the wood furniture (and red carpet).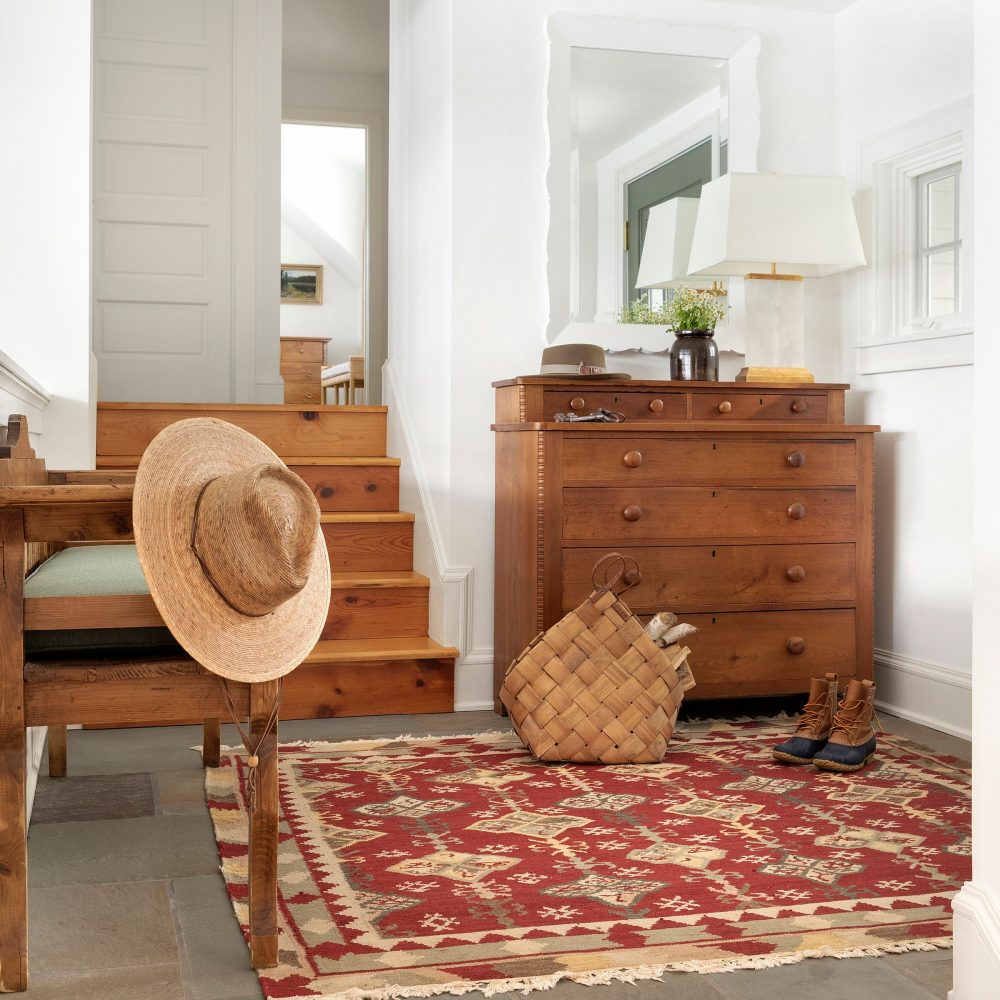 I'm also seeing monochromatic rooms popping up. The rooms where most of everything is all the same color from walls to textiles. Once again,I'm sharing one of my favorites from Room For Tuesday. She just made over her guest room and I love everything about it.
Remember 15-20 years ago when red and beige were all the rage? It's coming back a little bit more mature in the form of rust and greige. And now that everyone is spending more time at home, it's about time we started making our homes a little bit more warm and cozy!
You Might Also Like!
9 Of The Best Greige and Warm Gray Paint Colors (And How To Pick The Perfect Greige Paint)