12 Home Decor Trends For 2022
Let me start off first with saying that I was hesitate to write this post. I'm not a huge trend person and I don't like to follow decorating rules.
I'm a rebel like that.
Yes, there are trends and yes, design styles come and go. But guess what…it's your home….decorate it however YOU want.
If you see a trend emerging that you hate…don't do it. If there is something you love and you think it's on it's way out…who cares?
The trend police will not come arrest you, I promise.
With that being said, let's talk about what you'll be seeing in 2022.
Home Decor Trends for 2022
(This post contains affiliate links, you can see my full disclosure here)
Beige/Greige Home Decor and Paint Colors
Dare I say it…beige is back, baby.
Maybe not quite like it was 15 years ago but you will be seeing more and more beige making it's way back into homes. This trend is starting off as greige which you probably are seeing plenty of already.
When you aren't quite ready to go full on beige, you start off small and go greige.
Sometimes you just aren't ready to break up with gray and that's ok.
Some people might never want to look at a beige paint color again. And some people might never want to look at a gray paint color again.
This is where greige will have it's moment in the sun.
Greige paint colors are very popular right now. You can see my top greige paint colors in this post.
it won't be long though. I can feel it in my bones. Beige walls will be popping up soon again.
(I even recently wrote a blog post about the best beige paint colors)
I'm seeing more and more beige furniture popping up too.
Notice the beige couch in that room? I'm not hating it. We are taking what was popular 15 years ago and tweaking it a bit.
Challenge accepted
(Rumor also has it that brown walls might be making a comeback too. I'm not sure if I am ready for that quite yet so let's just move on.)
Wallpaper
Wallpaper isn't anything new and has been trending for a few years. The new trend with wallpaper this year is to go big. Not big in scale but big in money. Wallpapering the whole room (cha-ching) and not just an accent wall is what is happening this year.
I can't say with much certainty but accent walls aren't the most popular anymore like they once were.. BUT when it comes to wallpaper, I feel like you can get away with an accent wall of wallpaper.
I could also be making this up since I just wallpapered an accent wall in my daughter's room.
Now I know many people are afraid to add wallpaper to any wall in their home, but you really shouldn't be.
Wallpaper has come a long way…in both design and application. Peel and stick wallpaper is very popular. It can be a tad bit pricey but well worth it for the ease of installation. I failed to take my own advice and used straight up unpasted wallpaper for my daughter's bedroom.
Never will I do that again..
Installing that wallpaper is what nightmares are made of.
Do yourself a favor and just get peel and stick wallpaper. And once you are sick of it, you can just peel it right off.
Click on any image to shop:

Wood tones/unpainted furniture
You are going to be seeing more wood tones popping up in decor. In furniture and kitchen cabinets (we'll talk more about that later). Chippy painted farmhouse furniture isn't all the rage anymore. The unpainted furniture look is very popular right now.
The time has come for us to hide our paint brushes and to leave our furniture alone.
I love the look of traditional furniture paired with modern design as you can see from my other daughter's tween bedroom makeover.
Dark And Moody Rooms

I'm not saying that all white walls are out. I'll never say that. White is timeless, it'll never go out of style. I love a good white and bright room.
Buuut…
I also love a good dark and moody room. Dark and moody rooms are trending hard right now, especially in dining rooms, bedrooms and basements. If your room does not get a ton of natural light, you might think painting your walls a light color will brighten things up.
Wrong
White walls in a low light room will only look dingy. It's a perfect time to play around with dark colors. Basements are great places to experiment.
Non White Kitchens
10 years ago, all white kitchens were all the rage. And, as I said before, I will never say an all white kitchen is out of style. It is still a timeless look.
But you will be seeing more wood tones in kitchens this year.
Natural wood islands, cabinets and shelving are very popular right now.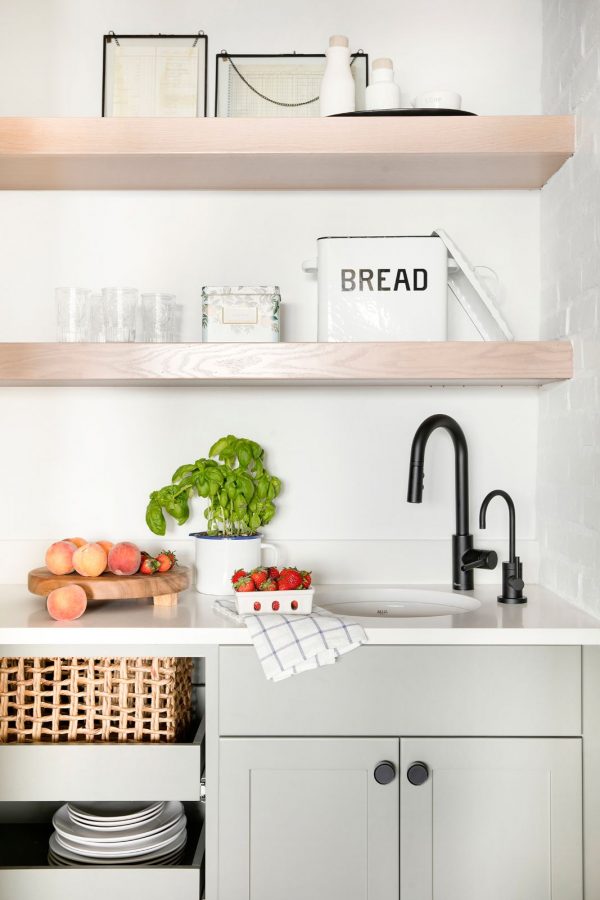 Two toned cabinets has been trending for some time now too.
I recommend using the darker cabinet color on the base cabinets and the lighter color on top. Because you know what gets dirty easily? And especially if you have dirty kids. That's right…white cabinets.
Olive Trees
Move over Mr. Fiddle because here comes Mrs. Olive. Olive trees are the new fiddle leaf fig tree.
I still love my fiddle leaf figs. I have many real fiddles and a faux one in my house. I haven't killed the real (or fake) fiddles yet, which has surprised many people including myself. They will be trendy until I forget to water them and kill them
But I did break down and buy a fake olive tree last year and she's perfect. (You can also find her here)
I won't even consider buying a real olive tree because we all know how that story will end.
But if you are on the hunt for a fake tree to fill up a corner in your house, jump on this trend and get yourself an olive tree.
Click on any image to shop:


Vintage (inspired) Art
Art and wall decor have always been tough for me in the past. I found myself using more and more mirrors to decorate my walls because I had no idea what else to do.
Not anymore. I jumped on this trend hard. I did a whole post on where to find affordable art here.
It might be hard to find true vintage art. But finding vintage inspired art is as easy as making mac and cheese.
There are so many online shops that offer vintage reproductions at such an affordable price. You can print the art at home or have a print sent to you.
One of my favorite online shops for affordable are is this etsy shop. I have purchased many prints from this shop
And this Etsy shop has so many designer dupes for fake vintage art.
I have had good luck finding vintage frames at Goodwill. Target and IKEA have great frames as well. I found this frame at Goodwill and just switched out the print with one I found at IKEA
I can probably just do a whole post about vintage art…mental note to self.
Click on any image to shop:

Rattan/Wicker Furniture (and decor)
I am so glad rattan and wicker is trending. I have been a huge fan of wicker furniture and decor for as long as I can remember. I can't put my finger on it, but I just love it.
It adds texture and contrast to any room. And it brings a level of warmth and coziness to your room.
(Excuse the dog, she always makes a guest appearance around here)
Click on any image to shop:

Which brings me to my next point…
Cozy (Cottage-ish) Decor
Days of stuffy and uncomfortable furniture are gone. The lived in look is not one to shy away from anymore. Texture, texture and more texture is the name of the game.
Casual and comfortable furniture, natural fiber rugs, textural decor, and (ideally real) plants can make your home feel cozy. Go ahead and toss that blanket on your slipcovered comfy couch…and then throw on some fluffy pillows
(You can see more about this room here: Cozy Living Room Decor Ideas)
White Appliances
Yep, that is what I said. White appliances in the kitchen are coming back. Maybe not quite like what you used to see 20 years ago but a more modern twist on white appliances.
I've always been a fan of white appliances. We had the non fancy kind of white appliances in our kitchen in our old house and I didn't hate them. They blended in with our cabinets and dang were they easy to clean. Who hasn't had enough of wiping finger prints off of their stainless fridge 125,538 times a day?
I know I am.
Real Plants
This isn't anything new. Plants (ideally the real kind) are very popular right now. I think I might have gone a little bit overboard with this trend.
I currently have more plants than I have room for. My house is like a greenhouse. But once you start, you can't stop. It's like eating Oreos
I usually get my plants at Home Depot or Lowe's. You can also get plants on Amazon and The Sil has a great selection.
If you are worried about killing the plants, read this post. There are some plants that are almost impossible to kill….and believe me I have tried to kill some. Not on purpose. It's just when you have so many, you forget which ones you watered already.
And I won't lie….I've watered my fake plants on accident before.
I need to stop going to Lowe's.
Click on any image to shop:

Earthy Colors
While I will always have a spot in my heart for blue and white decor, I am seeing such a shift to the earthy colors in home decor….and I am loving it.
Maybe because I've been craving a change in my decor, but I cannot get enough of the earthy colors right now.
Remember, take everything I just said above with a grain of salt. It's your home. Decorate it any ol' way you want to.
Non White Walls
Not only will you be seeing beige walls but you will be seeing COLOR again! On walls and in decor. And I am loving it. I was an "all white walls" kind of girl until recently. I painted my Silver Drop walls to Farrow and Ball Light Blue and I am loving the change.
Click on any image to shop:

But when you see beige walls popping up again, don't tell me I didn't tell you so.
(PS…I just launched my own E-Design and I am so excited about it. You can read more about E-Design here)
Click on any image to shop:

If you want to save this for later, you can pin it here:
YOU MIGHT ALSO LIKE:
9 Of The Best Greige and Warm Gray Paint Colors (And How To Pick The Perfect Greige Paint)
Behr's Most Popular White Paint Colors