Kitchen Backsplash Ideas With White Cabinets
(Gorgeous Backsplash Ideas For Kitchens With White Cabinets)
Many moons ago when we lived in our first house we had honey oak cabinets. We lived with those cabinets for a few years before I decided to paint those suckers
(You can see how I paint my cabinets here)
(And if you don't want to paint your cabinets, see how you can embrace your honey oak cabinets here)
I ended up painting our cabinets white in our old house. I kept our backsplash tile that we already had which was just plain white square tiles.
I will have to say, I sort of liked the white on white look so I had no desire to try to find a new backsplash.
I was lucky enough that I was able to shim my new counters up to the existing backsplash so there was no gap making my decision easier to keep the old tiles.
If you are getting new counters that are a different material than what you already have and you currently already have a backsplash, be prepared that there might be a gap from your old tile to your new counters. You might be able to shim up your new counters like I did in my old kitchen.
If you are doing a new kitchen remodel, install your counters first and then install your backsplash.
Fast forward a few years later and we are in our new (ish) house. I replaced our old counters with Dolomite counters. I wasn't able to shim my counters this time so I was left with a gap between my old backsplash and my new counters
Look closely and you will see the gap
Our current cabinets are cream but my counters are white. I am choosing to match my backsplash to my counters just in case one day I decide to paint my cabinets white.
White cabinets are so neutral and I really feel like any backsplash will look great with them.
(This post contains affiliate links. You can see my disclosure policy here)
How To Decide On A Backsplash For Your Kitchen
Trying to find the perfect tile for your kitchen backsplash can send you down a long dark rabbit hole. Believe me, I know.
It took me two years to decide on a kitchen backsplash.
First, decide what type of tile you want for your backsplash (more on that below) and then take cues from your kitchen.
Does your kitchen lean more to the modern side or is your kitchen more traditional?
Shaker cabinets tend to lean a bit more modern and beaded cabinets tend to be more traditional.
Are your cabinets more of a stark white or more of a creamy white?
Do you want more color in your kitchen or would you prefer a more neutral kitchen?
There is no wrong answer for any of these questions but you will have to decide what YOU want.
Which Tile Is Best For A Kitchen Backsplash
Ceramic and Porcelain Tile
The most popular and easiest to find tile for your backsplash is ceramic and porcelain tile. Porcelain tile is a bit more durable than ceramic but when it comes to backsplash tiles there seems to be more of ceramic tile selection.
Ceramic tiles also seem to be a bit more affordable
I ended up purchasing this backsplash from Home Depot for my kitchen in the Gin color. It comes in a subway and square design and in multiple colors
I'll post an updated picture once it gets installed.
What I love about this tile is that it is a great dupe for the ever so popular Zellige Tile
This is also a great dupe too to the Zellige Tile if you want the look but not the price or maintenance.
Click on any image to shop:

Stone Backsplash Tile
Another popular option for your backsplash is a stone backsplash. Some stone backsplashes can be really beautiful but some of these options can also require more maintenance (think marble backsplash)
There are some beautiful marble backsplashes that come in all different shapes and sizes.

If you want the look of marble or brick but do not want to worry about the maintenance, there is plenty of ceramic tile that can mimic the look of some of these stones.
I purchased a sample of this tile because I was thinking of the going the faux brick route for my kitchen.

Here's a better picture of the sample I have. You can see how much it mimics the look of brick but it is a ceramic tile.
Glass Tile Backsplash
Glass tile is another great option. It comes in multiple styles including subway, mosaic and penny styles. Some glass tiles can also add color to your kitchen if that is something you are needing.
There are plenty of pretty glass tiles out there. Rumor is though, these tiles might be a bit trickier to install. Keep that in mind if you want to install your backsplash as a DIY project.
Click on any image to shop:

Wide Beadboard Tile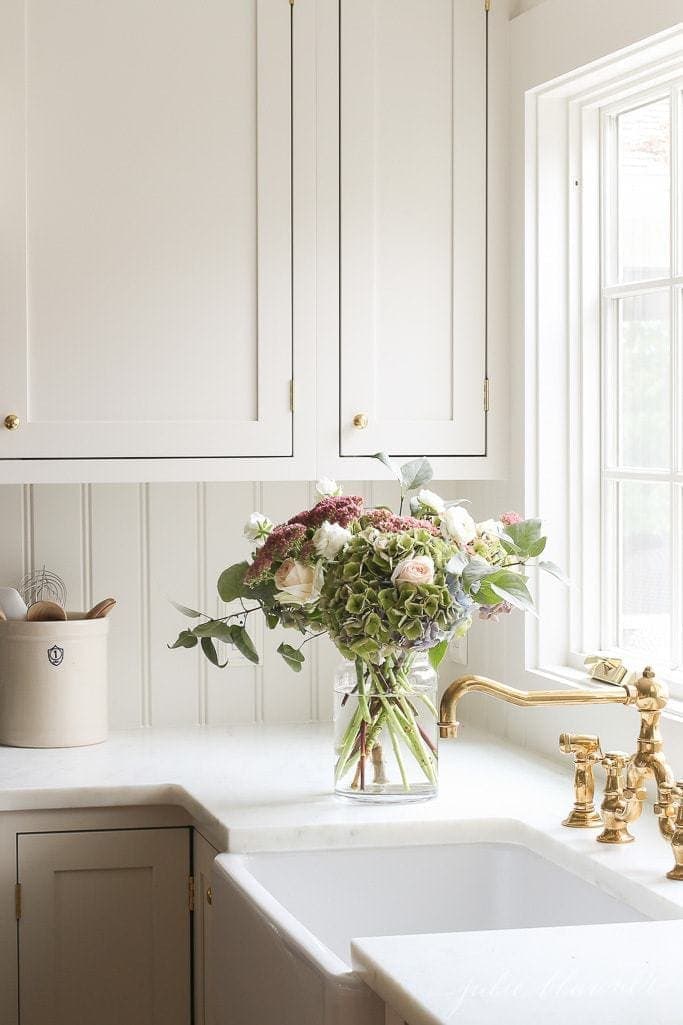 I love this look and actually considered it for my kitchen. Beadboard is an affordable option and can be a somewhat easy DIY project.
I'd recommend a good exterior paint on them and they can be a pretty durable option.
This article from Julie Blanner is a great resource if this is something you are considering.
What are the backsplash trends for kitchens.
A huge trend I am seeing right now is carrying your countertop material up to your backsplash and the look is beautiful
I really wish I would have done this when I was replacing my countertops but I dropped the ball on that one.
This is something that needs to be done when you are picking out your countertop to ensure that the slabs being used for your counters and backsplash are coming from the same lot.
You can also carry your counters up to your backsplash with quartz countertops.
I know we have seen our fair share of subway tile backsplash in the past few years. Some might say that subway tile is a trend but subway tile has been around for years and years.
I'd consider it a timeless option (that is really popular right now)
Backsplash Ideas For White Countertops and White Kitchen Cabinets
The sky is the limit on this one.
You cannot get any more neutral in a kitchen design than with white counters and white cabinets.
If your countertops are a solid white, you can pretty much do whatever you would like with your backsplash.
A pretty marble (or faux marble backsplash) would look beautiful. Even if your counters have some pattern to it, a marble backsplash is still really pretty
You can also do a plain white backsplash. A backsplash with some sheen to it is really pretty to add some texture to your all white kitchen.
Or add in a pop of color. There are a ton of ideas in this article from Elle Decor
I just love this jade green tile with white cabinets.
(I'm a visual person so mocking up these designs help me visualize a space)
Click on any image to shop:

If you have white cabinets and dark countertops what color should your backsplash be?
(Also, backsplash ideas for white cabinets and granite countertops)
In theory you can do most any kind of backsplash as well in this situation.
I'd take the same approach as I would with white counters. If my counters are busy (let's say granite) I would do a simple backsplash.
Personally I think a white backsplash that matches your cabinets would look great.
(PS…that was our old kitchen that I mentioned above.)
If your counters are black a pretty marble or faux marble backsplash would also look pretty.
I also think this faux brick backsplash would be pretty to add some texture to your kitchen
Kitchen Backsplash Ideas

(Including Subway Tile Alternatives)
White Square Tile Backsplash
I had white square tiles in both of my kitchens and I actually liked them. Square tiles are starting to trend again. I saw this tile in person and it was so pretty. I am so mad I did not get a picture of it.
The new tile I have in my kitchen comes in a square version and it is also so pretty.

Classic White Subway Tile
I really do not think you can go wrong with a classic white subway tile. It's timeless and trendy.
But there are so many different kinds of subway tile…more than I can even link.
Obviously I am a big fan of my new backsplash that I picked for my kitchen. It's not your typical plain white subway tile. The sheen adds such a good amount of gloss and texture to your kitchen.

I also think this tile is really pretty. The crackle finish adds some character to a plain white subway tile
This subway tile reminds me of a glossy rustic brick tile. I saw it in person and was so close to getting it for my kitchen

Rustic Brick Backsplash
I linked this backsplash earlier as it was also a top contender for my kitchen. It's a good faux option if you do not want the real deal

Another great faux brick option if you want more color to your backsplash.

Hexagon Tile
This tile was my top choice for a while. I loved that it is traditional and modern and just something different than a plain white subway tile.

But it is a bit trickier to install and I just wasn't sure I was ready to add anything difficult to my kitchen (even though I hired someone to install our backsplash)
You can see it in Haneen's kitchen here
(I would have run the tile horizontally in my kitchen)
This backsplash is also a pretty option and something different

Brooke from Nesting With Grace used this tile in her old kitchen. You can see how adding a modern dark grout can add a bit of color and interest to your kitchen
I will say, if your kitchen is very traditional looking, a modern grout color might not be best. It works perfectly in Brooke's modern kitchen though.
Mosaic Wall Tile
I love love love this tile especially if you want to do something different and a bit eclectic with your kitchen.

It's a bit pricey but probably worth it for the wow factor.
If you want to save this for later, you can pin it here:
You Might Also Like:
The Best White Paint Colors for Kitchen Cabinets
How To Paint Bathroom Cabinets (So They Last)
The Best Kitchen Paint Colors With Honey Oak Cabinets (and Trim)