Cheap Flooring Ideas (That Do Not Look Cheap)
10 easy ways to update your flooring that are affordable and beautiful
Many years ago when we lived in our first house we had wall to wall WHITE carpet. And Holy cow was that a bad idea. Really bad.
I remember daydreaming ways to rip out that carpet and replace it with something on the cheap. I went so far as considering ripping out the carpet and just painting the plywood sub floor underneath.
My husband thought I was crazy but in fact I was dead serious. Serious to the point that I actually started researching it. If this is something you have ever considered this post will be a great read for you.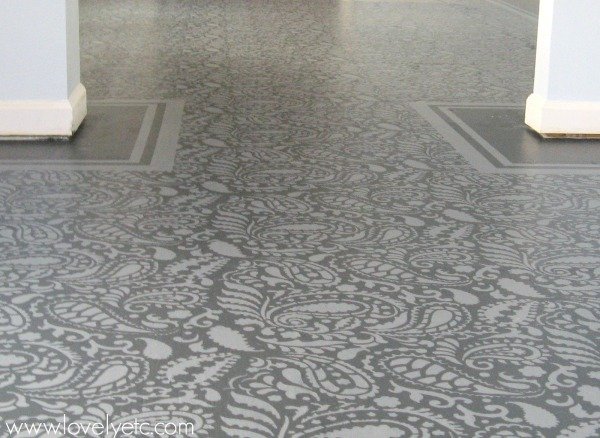 It has been done before….not by me though.
We eventually got a crazy dog that destroyed our white carpet. We finally bit the bullet and put down Laminate hardwood flooring.
So let's start there with our "cheap" floor roundup…
Laminate Hardwood Floors
Now let's be honest, replacing 2000 square feet of carpet with any flooring is not going to be "cheap" but I was determined to get the best bang for my buck.
I did my research and for the price Pergo flooring from Lowe's won.
I'm sure things have changed since then but at the time, Pergo couldn't be beat. I had Lowe's install the floors as well and the process was great.
We only lived with our Pergo flooring for less than a year and then we sold our house. But without a doubt, those floors helped us sell that house.
For the little amount of time that we lived there, I was very happy with the floors. They were a tad bit softer than hardwood and they did feel different when walking on them. But I would do it again in a heartbeat.
Even the dog like them…
We installed the "Nashville Oak" color. I do not think they have this exact floor color anymore but I loved them…mainly because I could not see one speck of dirt or dust.
And we all know how magical that can be.
DIY Flooring~Painted Linoleum
When we moved into our new home, we were lucky enough to have hardwood floors throughout the majority of the house. Our mudroom was an exception with dirty looking linoleum.
So what is a girl to do?? She got out her paint brush is what she did. I painted our linoleum floors in one day…I was drenched in sweat by the end, but I got it done.
And yes, you can paint over tile too. I painted our fireplace floor tiles to look like marble and they are holding up so well.
Both techniques were done free hand but you can always find a stencil too. You really can find stencils anywhere but I'll link some for you below.

The key to using stencils is to know that it is a slow process. And to always, always, always go light with the amount of paint on your paintbrush.
Vinyl Floor Stickers
After I spent a whole day drenched in sweat painting our mudroom floor, I came across this post from Lauren at Bless'er house where she used vinyl floor stickers to cover here laundry room floor.
I might have kicked myself in the booty for not reading this post first.
Image Via Lauren @ Bless'er House
This is a great idea and especially for renters since they are just stickers and they can easily be removed.
Check out this shop on Etsy to find more floor stickers. There are too many that are amazing and I cannot share them all.
I am obsessed with this one too. I'm just over here trying to find a way to convince my husband I need to install this in my kid's bathroom.

A few more of my favorites:

Staining Existing hardwood.
A no brainer approach to updating your flooring on a budget would be to sand and stain your existing hardwood floors.
PS….I did start an E-Design business and I have had multiple questions on what floor stain is best. And just like paint, picking a stain color for your floors isn't a one size fits all approach.
You need to consider what floors you already have. Let's take red oak for example…you can't just sand it down and slap a random stain on it and think it's going to look like Suzy's white oak floors next door. The red undertones in the oak need to be considered. What colors are your walls? How much natural light does your home get.
There are tons of blogs written about this so I will not go into too much detail but just do some research first.
Which brings me to my next idea. I would never consider refinishing our floors. We have Brazilian cherry floors and no matter how much sanding I do, the red will never come out. I either need to accept my floors or…
Painting Your Hardwood Floors
Now I would never ever consider painting my floors in my whole house because I really think the big guy would send me away if I did that… but it can be done.
I stalk Chris Loves Julia and they just moved into a house with the same exact floors as mine. They ripped out the floors in the house and replaced them but did paint their cherry floors in their guest house.
And you know, I don't hate it.
It's an option for sure but one I would be very careful with for resale.
And I do think some of those stencils above would also look great on hardwood.
Decorative Sheet Linoleum
I know I just said earlier that I painted over my linoleum in my mud room but there's a new linoleum in town and it is a good one.
Sheet linoleum has come a long way since the 70s. This isn't your grandma's linoleum anymore
For example, this guy. (Also comes in black)

If your Home Depot has it listed as out of stock, you can try to order it in the store or search for it here.
This linoleum would look so good in a bathroom or mudroom and you'd never know how inexpensive it is.
I also saw this sheet linoleum at Lowe's the other day and I had to do a double take.
See, what did I tell you about sheet linoleum??
Luxury Vinyl Tile & Luxury Vinyl Planks
Another type of flooring making it's way into the design world is Luxury Vinyl Tiles (LVT) and Luxury Vinyl Planks (LVP). They are similar but obviously different. LVT mimics the look of tile and LVP mimics the look of hardwood plank flooring. Both can be found at any big box hardware store
I believe that both can also be installed directly over your existing floor (minus carpet of course). Some are waterproof, some are stain resistant, some are scratch resistant.
I think at this point with how popular LVT and LVP are becoming, it'll be hard to not find something you need for your space.
Cheap basement flooring ideas over concrete
Peel and Stick Carpet Tiles
You know you are old when sharing your love of carpet tiles on the internet happens.
I never thought I would ever share my happiness over carpet tiles ever in my life but here we are. We have carpet tiles in our basement and they have been such a life saver.
Especially when one of my precious kids dropped slime all over one carpet tile. I picked up that one tile, threw it away and put down a new tile. No one had to tell the big guy what happened and he'll never be the wiser.
The carpet tiles have a tiny bit of padding to them
But you won't find me camping out on the basement floor with the kids. They just stick right to the concrete so there isn't much padding for my old bones.
I do not know for sure exactly where our carpet tiles are from but I know Home Depot carries them.
Something similar to carpet tiles are foam tiles. These will also be great for a basement or even a garage. Some are pretty enough to even turn into an area rug.

And there you have it, 10 different ways to update your floors on the cheap. Trust me, it's 10…I counted.
Click on any image to shop:

Cheap Flooring Ideas (That Do Not Look Cheap)
10 easy ways to update your flooring that are affordable and beautiful
If you want to save this for later you can pin it here:
You Might Also Like
Where To Find Affordable Farmhouse Rugs Online
Design Dilemma~ Decorating With Brazilian Cherry (Red) Hardwood Flooring